Magento Migration Services: Why It Is an Absolute Necessity
Running a successful e-commerce store is challenging and requires a smooth functioning platform for customers to use. For that reason, Magento migration services are incredibly valuable: They provide a way to boost store functionality, increase conversion rates, improve customer experience, and keep your store ahead of the technology curve.
The Magento 2 migration process requires expert knowledge. At Envisage Digital, we provide high-quality Magento migration services, no matter what platform you're currently using. We also offer bespoke software solutions, building you a user-friendly Magento marketplace platform to sell your goods.
Contact us at Envisage Digital today at 01202 016162 to learn more about how our Magento 2 migration services can give your e-commerce store the opportunity for more growth and revenue.
Migrating Your Existing
Website to Magento 2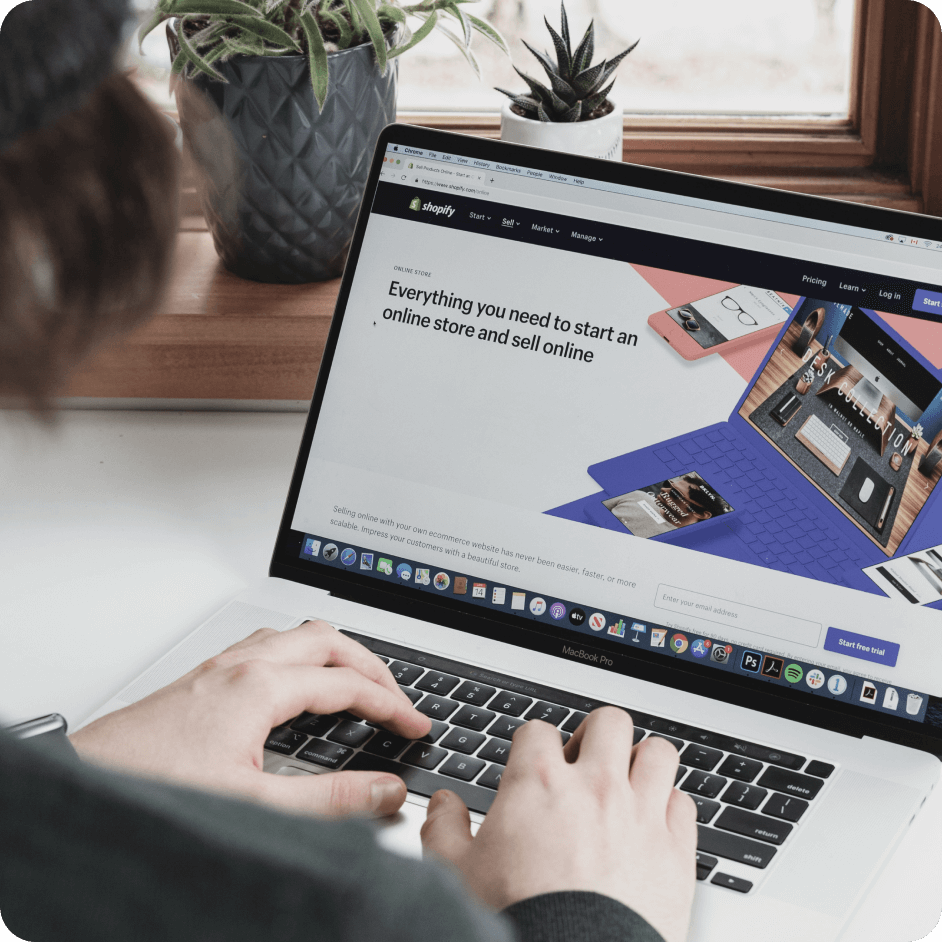 Here at Envisage Digital, our services aren't just for Magento store owners. We can migrate your online store to Magento 2 from a wide variety of existing platforms, including (but not limited to):
Shopify
WooCommerce
Opencart
BigCommerce
Zencart
Wix
SAP Commerce Cloud
Prestashop
Magento data migration services can be very complex, but we make it easy. If your online store is ready for an upgrade, you'll love the new and innovative features of Magento 2. Its features can improve user experience, increase your conversion rate, and ensure PCI compliance, to name a few.
Migrating to Magento 2 will keep your business growing, expanding, and achieving goals. As an experienced Magento migration company, we know what it takes to facilitate a seamless Magento 2 data migration.
Migrating from Magento 1 to Magento 2
At Envisage Digital, we also specialise in Magento 1 to Magento 2 migration for those with an existing Magento commerce platform. Magento 1 is the older version that went end-of-life in June 2020, already two years past the original EOL date.
So, why does it matter if you're still using Magento 1? Since it went EOL, you won't receive security patches, updates, or necessary code fixes, and you'll lose access to proper support, which means your store's performance will inevitably lag.
Without new security updates for Magento 1 platforms, your business will be vulnerable to hackers and data breaches. If you don't upgrade to the latest version of Magento, all your valuable store data and sensitive customer information is at risk.
Once you start the migration process from Magento 1 to Magento 2, you'll get all-new features, including: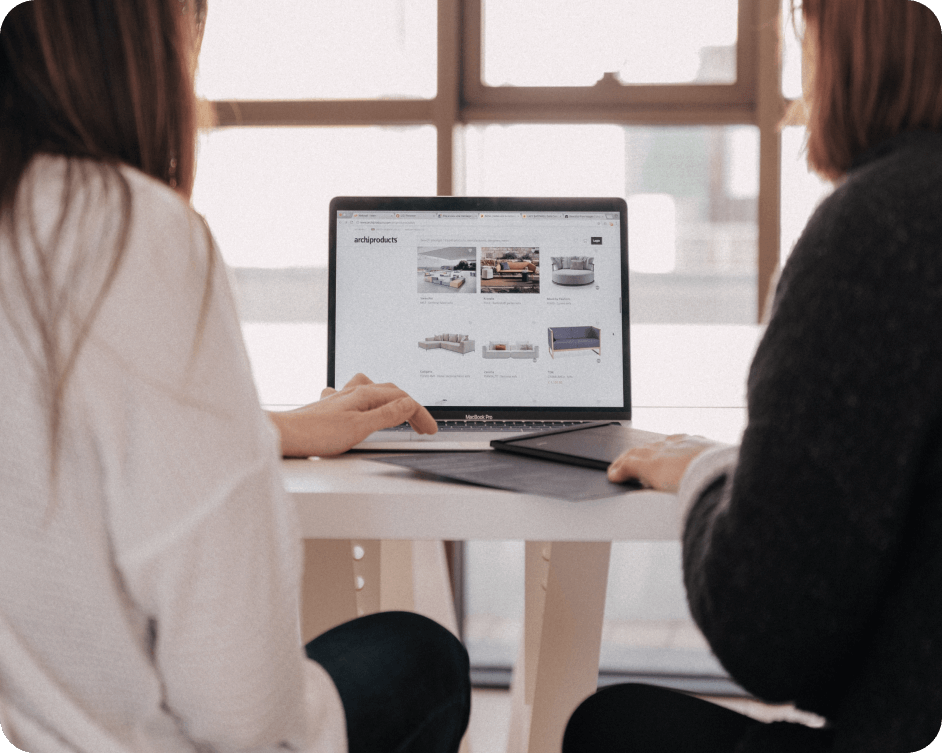 Better add-ons and extensions
Enhanced CMS and page builder
Advanced page caching
Superior admin capabilities
Improved SEO performance

Faster load time for users
Elastic search for instant and accurate search results
B2B functionality
Multi-source Inventory
Faster add-to-cart and checkout
Highly structured and efficient code
Better security features
The Magento 2 Migration Process
There are always going to be migration challenges during an upgrade to the latest version of any platform. However, with our help at Envisage Digital, the complex process of upgrading to Magento 2 will be easier than you ever thought possible.
Discovery
Data migration is challenging, which is why we at Envisage Digital work closely with every client to create a customised plan. First, our certified Magento developers list your existing extensions and determine your precise requirements and expectations.
For example, even if you already use Magento, you can't just copy and paste all the data into the upgraded version. You'll need expert Magento migration services for that. At Envisage Digital, we can also add any necessary data from your existing platform, like customer information and points from your loyalty scheme.
Scoping
Scoping involves creating an all-inclusive project plan detailing every aspect of your Magento 2 migration project. We'll go through every step of our strategy to ensure that you're satisfied and that we're meeting your needs.
Data Migration
Next, we'll begin the actual development and migration process using our innovative data migration tool from Envisage Digital.
We'll set up your new website and start to migrate the data from your old platform to Magento 2.
Don't worry – we're experts at Magento data migration and will make the process as easy and smooth as we can.
Functionality Migration
The next step in Magento 2 migration is to migrate all the functionality from your old website onto the new one.
No matter how large or small your e-commerce store is, we can easily handle the Magento 2 functionality migration.
Design Migration
At Envisage Digital, we can migrate your old design to your new Magento 2 platform.
However, most of our clients prefer creating a new layout and custom code to refresh their store.
Customisation
Now is the creative part: our Envisage Digital team will add the new customisations and functionalities you requested during the discovery.
For example, we'll prominently feature the old parts of your website that did the best, but they'll get a makeover to make it easier for successful integration with the latest Magento version. We'll create a completely bespoke and refreshed design for your new Magento 2 platform.
UAT/Testing
One of the last steps is UAT, which stands for User Acceptance Testing.
We'll perform tests to check for a smooth migration and a properly functioning website.
We also ask our clients to test their new Magento 2 platform to ensure that they're fully satisfied with performance and design.
Delta Migration/Go Live
The final step of upgrading to the latest Magento version is the actual launch.
First, our Envisage Digital team will prepare a delay migration. We do this to migrate current data from the older version of your platform once we go live with Magento 2. Also, it prevents any products, returns, or orders from getting lost during the launch.
As the premier choice for Magento upgrade services, our team at Envisage Digital uses a wide range of different tools to assist with your Magento 2 migration. However, each client and their circumstances are unique, and each requires a separate data migration tool. For example, we may use Ubertheme for one client and Cart2Cart for another.
Unfortunately, it's not possible to use tools for every data migration scenario. That's why our Magento upgrade service is such an excellent choice: Our experts will plan and perform manual data migrations if we can't use any tools. We can do this regardless of whether you have Magento 1, Shopify, or another platform.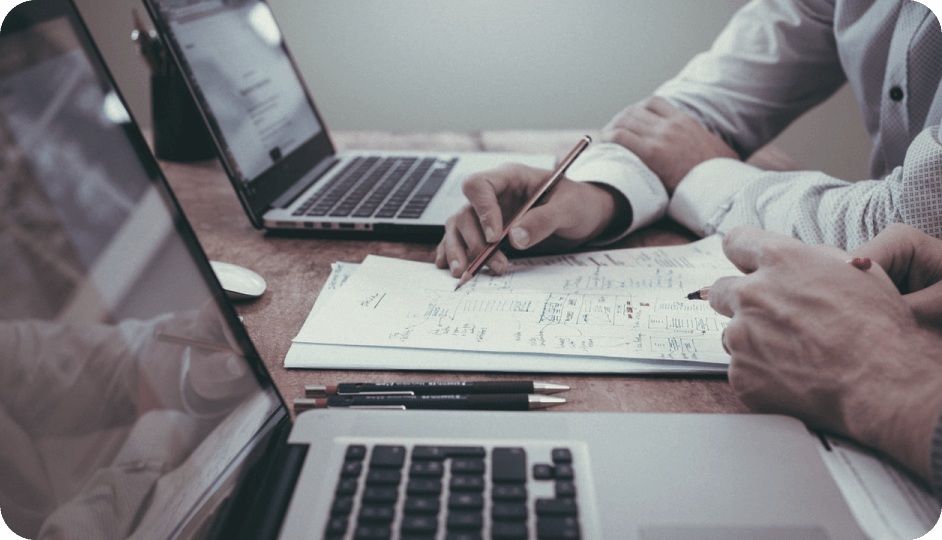 Speak to our Magento Solutions Specialists today

1. Magento 2 Is Open-Source
One of the most attractive benefits of running a Magento store is that it's free. You don't have to pay any monthly subscription fees, and you keep 100% of your online store sales revenue. Alternatively, you can pay for a subscription to get better features and benefits.
The cost-effectiveness is a huge reason why Magento open-source is so popular. Most of our customers opt for the Magento Community Edition, which is also a free platform on Magento 2.

2. Magento 2 Has Flexibility
Magento 2 migration also provides versatility and flexibility. One of the reasons why Magento 2 is so popular is its high level of customisation.
So even if your store has unique needs, Magento 2 is sure to have an innovative way to meet them.
3. Magento 2 Has a Great Community
Another reason to consider a Magento 2 migration service is the extensive community of members who volunteer their time for platform improvements.
In fact, Magento 2 has the largest community of developers across the globe. These developers work tirelessly to improve and optimise the platform, giving your e-commerce store better performance and features.

4. Magento 2 Is Actively Maintained
Remember how we said that a Magento 1 to Magento 2 migration service was essential if you want your store to stay ahead of the technology curve? It's possible with Magento because some of the brightest minds in the world actively maintain this platform.
Some platforms currently on the market are "dead," which means that nobody ever maintains or improves them, inevitably causing performance issues. With Magento 2, you'll receive frequent updates and patches to keep your store running smoothly.

5. Magento 2 Has Lots of Plugins
Does your e-commerce platform require a lot of plugins? If so, it's a no-brainer to upgrade from Magento 1 or another platform to Magento 2. It's got one of the most extensive sets of 3rd plugins, more than any other platform on the market.
That means you can add multiple functionalities to improve user experience and store performance at a low cost and without a ton of effort, either.

6. Magento 2 Can Handle Multi-Store Users
You can increase your conversion rates and improve user experience with Magento. Magento provides:
Fast-loading pages
Mobile-friendly websites
Simple checkout procedures
Multiple options for payments and shipping
Significantly increase your sales by offering your customers an easy-to-navigate site and knowledgeable support when they have questions.

7. Magento 2 Accepts Multiple Currencies
Owners of international stores will require the capabilities to accept different currencies and payment methods.
That's why the multi-currency feature on Magento 2 is so valuable: your customers will have options for base currency or alternate payment methods.

8. Magento 2 Has Top Security
Security challenges and data loss are the biggest challenges you'll face as a store owner and can have devastating consequences to your store's reputation and bottom line.
Quite frankly, your most crucial performing platform focus should be on security. Magento 2 is one of the safest platforms to use, with frequent updates and the latest security patches to keep your store protected. You can also enable a private key and public key or SSH keys for authentication and security purposes.

9. Magento 2 Is SEO-Friendly
Even right out of the box, Magento 2 is a very SEO-friendly platform. SEO stands for Search Engine Optimisation, and it can bring people with Magento stores many different benefits.
Adopting an effective SEO strategy can increase organic traffic to your site, reduce page-loading time, raise your search engine rankings, improve your conversion rate, and ultimately make your store more money.

10. Magento 2 Enables Extensive API / Integrations
Magento data migration services also greatly benefit online store owners because Magento 2 has an extensive API (Application Programming Interface). When you make the switch to the latest version of Magento 2, your Magento store will now be able to feature all sorts of integrations.
For example, you can create a shopping app with great features, like JavaScript widgets in your storefront or an integrated content management system. In addition, CMS pages allow you to choose specific layout templates, set and enter URL paths, even add in data for SEO purposes.
Other Magento Services Available
Why Choose Envisage Digital for Magento 2 Migration Services?
There's a simple reason to choose Envisage Digital for your Magento migration services – because we genuinely care about the success of our clients. We're more than a team; we're a family who wants to work hard to help your e-commerce store succeed with a Magento 2 platform. Our experts offer extended support during your Magento migration service, so you have a professional ready to help whenever you need it.


One of our most recent Magento migration projects was for National Office Furniture Supplies, which migrated from Magento 1 to Magento 2. We added their sister store right on the same platform, using a bespoke system that made it much easier for store owners to track inventory, purchases, customers, accounts, and more. 


Since the store upgraded from Magento 1, they've enjoyed a higher conversion rate, improved performance and functions, and higher levels than the previous site.
www.nationalofficefurnituresupplies.co.uk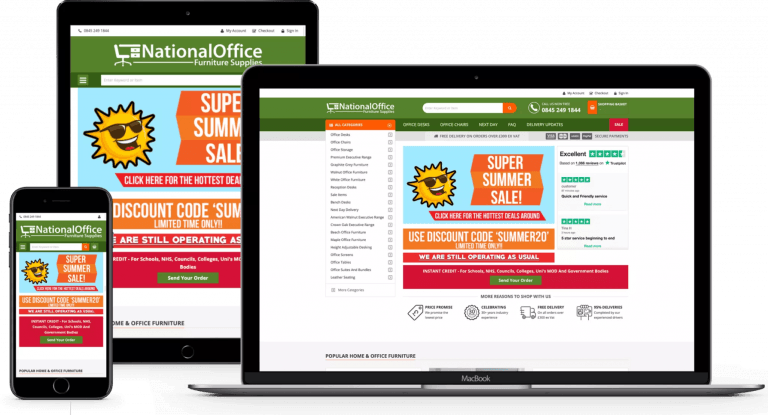 Here at Envisage Digital, we know what it takes to handle a successful migration, even if your old platform is seriously outdated. Our experts will work tirelessly to ensure that we meet all your needs and that you'll be happy with our Magento migration services.