Experienced BigCommerce Web
Design Company
Are you looking for a professional BigCommerce web designer to elevate and optimise your eCommerce business? At Envisage Digital, we know how to drive success for your business using our custom-built solutions and innovative tools, but it's our genuine commitment to achieving all your eCommerce goals that set us apart from the competition.
Running an eCommerce store with any measure of success is no easy task, and when it's time to design your website, be prepared for even more challenges. Fortunately, that's where we come in. At Envisage Digital, we're a BigCommerce design agency offering personalised eCommerce services, including search engine optimization (SEO) as well as web design and development.
Ready to get started? Call us at Envisage Digital today at 01202 016162 to schedule your free consultation and learn more about our BigCommerce digital marketing services.
Thoughtful Design to
Accelerate Your
BigCommerce Store
At Envisage Digital, our designers bring innovation, ingenuity, and a level of artistry to BigCommerce website design for each online store. We've got the skills to build you a beautiful online store with a thoughtful, responsive, and visually appealing design. We will optimise your website and its content using our well-honed SEO skills.
Curious to learn more? Check out the web development and design strategies our full-service eCommerce agency uses for BigCommerce stores, as follows.
Conversion Rate Optimisation
We're willing to bet that your BigCommerce store could benefit from a conversion rate boost. 
To accomplish this, we'll use SEO, UX techniques, and split A/B testing for performance optimisation. Once we finish, your store will turn more visitors into customers, ultimately increasing sales.
Build Trust in your Brand
If your target market doesn't have any trust in your brand, success becomes nearly impossible. 
Our BigCommerce developers take a consistent and thorough approach to digital marketing, using trust signals like reviews, guarantees, live chats, and more to build brand loyalty for your business and give your customers peace of mind.
Responsive for Every Device
Did you know that 65% of eCommerce traffic originates from a mobile device? As such, it's clear to see why eCommerce sites need complete mobile optimisation, including fast page-load speeds. Our developers will create a mobile-first site design to ensure that your new BigCommerce store runs smoothly on desktops and mobile devices alike.
User experience has an undeniable impact on sales for BigCommerce stores. Our team will implement valuable accessibility features to account for this, making your BigCommerce website easy to navigate for any user. As a result, you'll enjoy a boost in customer satisfaction and sales.
Certified BigCommerce Partner
At Envisage Digital, we're proud to be a certified BigCommerce partner. 
No matter what kind of custom design you need, our BigCommerce experts have the skills and talent to handle it. Instead of choosing an inexperienced BigCommerce design agency, you can rest assured knowing that your store is safely in the hands of the certified experts at Envisage Digital.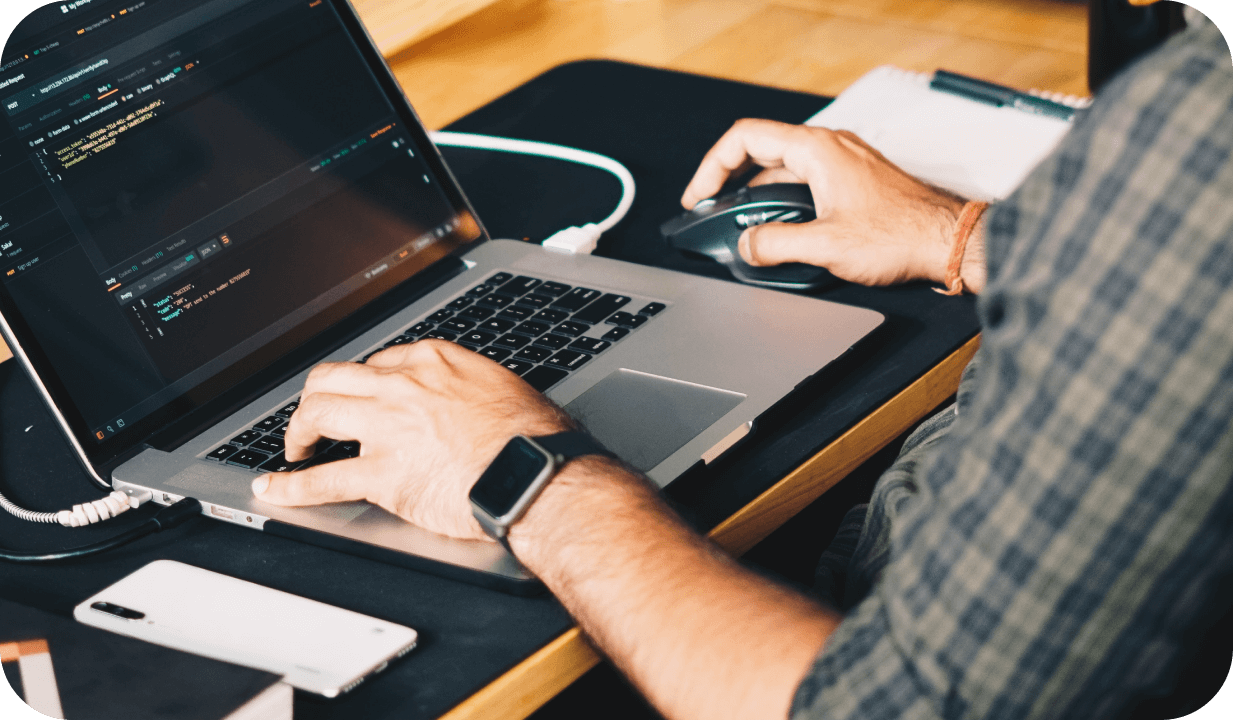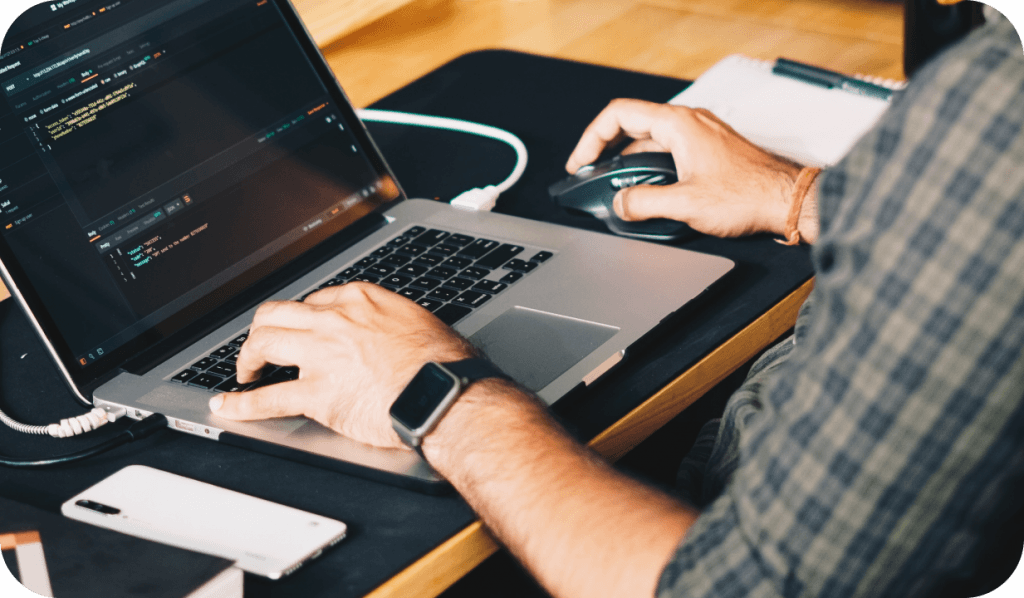 BigCommerce Website
Design Process
As an experienced eCommerce agency, we believe in complete transparency for our clients. We invite you to explore our BigCommerce website design process and general guidelines explaining our custom development services. Read on.
Discovery
Your unique insight and business knowledge will form the basis of our discovery. We'll gather data, collect requirements, and develop an understanding of precisely what you want for your new BigCommerce store.
Scoping
After gathering the relevant data, our team will formulate a comprehensive overview of your project. It will detail all the professional design features you want us to include in your new BigCommerce store.
UX Research
UX research is a critical part of the professional design process we use for eCommerce stores.
Our team will use a data-driven, analytical approach to develop requirements based on best practices, user feedback, advanced analytics, and more.
Wireframing
Before we start building your BigCommerce store, we'll show you the proposed design concepts and blueprints.
Wireframing helps to ensure that you're satisfied with the look and feel of your BigCommerce platform before we start to produce the final design.
Design
Finally, our BigCommerce designers will go to work.
We'll build your custom design on the wireframes using our UX research, creating an amazing, highly converting BigCommerce store, allowing you to sell online confidently.
Iteration
Even after we finish the final site design, our BigCommerce web designers will work tirelessly to improve and iterate the finished product. If you have any suggestions or concerns, we'll use those as a basis to make improvements.
Delivery
The last step in our design process for BigCommerce stores is delivering the finished design files and assets. Finally, it will be time for our developers to do what they do best: build a successful, high-performance BigCommerce platform.
Implement Your BigCommerce Design
After our BigCommerce website designers finish site building, they'll implement the design onto your existing eCommerce platform. 
To learn more about our BigCommmerce development services, check out our service page or call us at 01202 016162 to speak with a team member.
Other BigCommerce Services Available
Iterate your BigCommerce Website Design Project
Did you know that you can take advantage of our BigCommerce design services without spending the time or money on a full redesign? Every BigCommerce designer on our team is talented enough to help you build and scale your existing designs for complete optimisation, with no redesign required.

Even the top eCommerce websites need a design refresh from time to time. 
A simple header and footer redesign can work wonders to rejuvenate an outdated BigCommerce store.

Many eCommerce stores lack a responsive and engaging homepage design. If your store is bland, boring, and doesn't inspire confidence, you'll inevitably have trouble retaining customers. 
Fortunately, our team can easily improve your homepage design, taking your BigCommerce store to the next level of innovation.

Landing Page Design and eCommerce SEO
Genuinely successful BigCommerce stores leverage digital marketing and search engine optimization, or SEO. 
Optimising your BigCommerce store with SEO techniques is an excellent way to improve visibility in a competitive marketplace. Using our advanced SEO strategies, you can drive more traffic, generate stronger leads, and boost conversions.

Every BigCommerce designer on our team excels at feature building, whether your website needs custom tools or simple functions, like a calculator. 
Once we finish, your BigCommerce store will have advanced features and functionalities for a seamless shopping experience.

Does your checkout process need improvement? Customers are unlikely to return if your BigCommerce store doesn't have a smooth, secure checkout experience. 
Every BigCommerce designer on our team is well-versed in checkout design, including cart building, security, and payment gateways.

Successful BigCommerce stores incorporate digital marketing and communication strategies. Our digital agency can handle all those features, including email communications, contact forms, order confirmations, etc.
Why Choose Envisage Digital as Your
BigCommerce Web Designer Company?
At Envisage Digital, we're proud to be one of the top BigCommerce design agencies in the U.K. From digital marketing and integrations to website design and feature development, our team has what it takes to drive success for your business.
Does your store need SEO or optimisation? We've got you covered. Or maybe you're looking for a BigCommerce custom design service that you can afford on a tight budget. We fit the bill there, too.  We're a professional web design agency with skills and talent, and if you don't take our word for it, read through some of our five-star reviews or project case studies.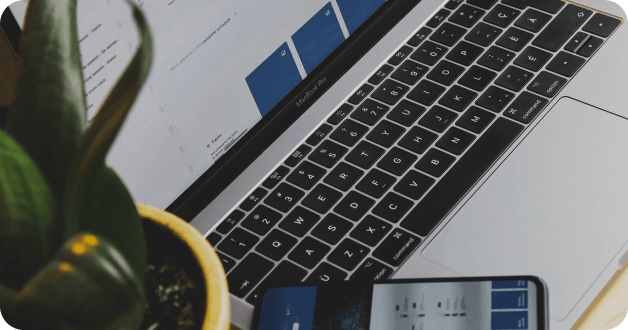 The BigCommerce Web Design Firm That Drives Success: Envisage Digital
With our top-notch designers, years of experience, and skill with BigCommerce, there's no reason to look elsewhere when your eCommerce business needs optimisation.
Call us at Envisage Digital today at 01202 016162 to schedule your initial consultation and learn more about our BigCommerce web design services.