Magento 2 Migration - Magento 2 Website With TouchRetail API Integraiton​
Founded in 1909, Robert Old is a family run business, retailers of high quality luxury menswear. Located in Bournemouth, Robert Old has stylish, well-made menswear attire and accessories offered to customers by the best of British service. Recently adding their luxury brands for sale from an online store, a requirement for a fully integrated system for sales instore and online was called upon.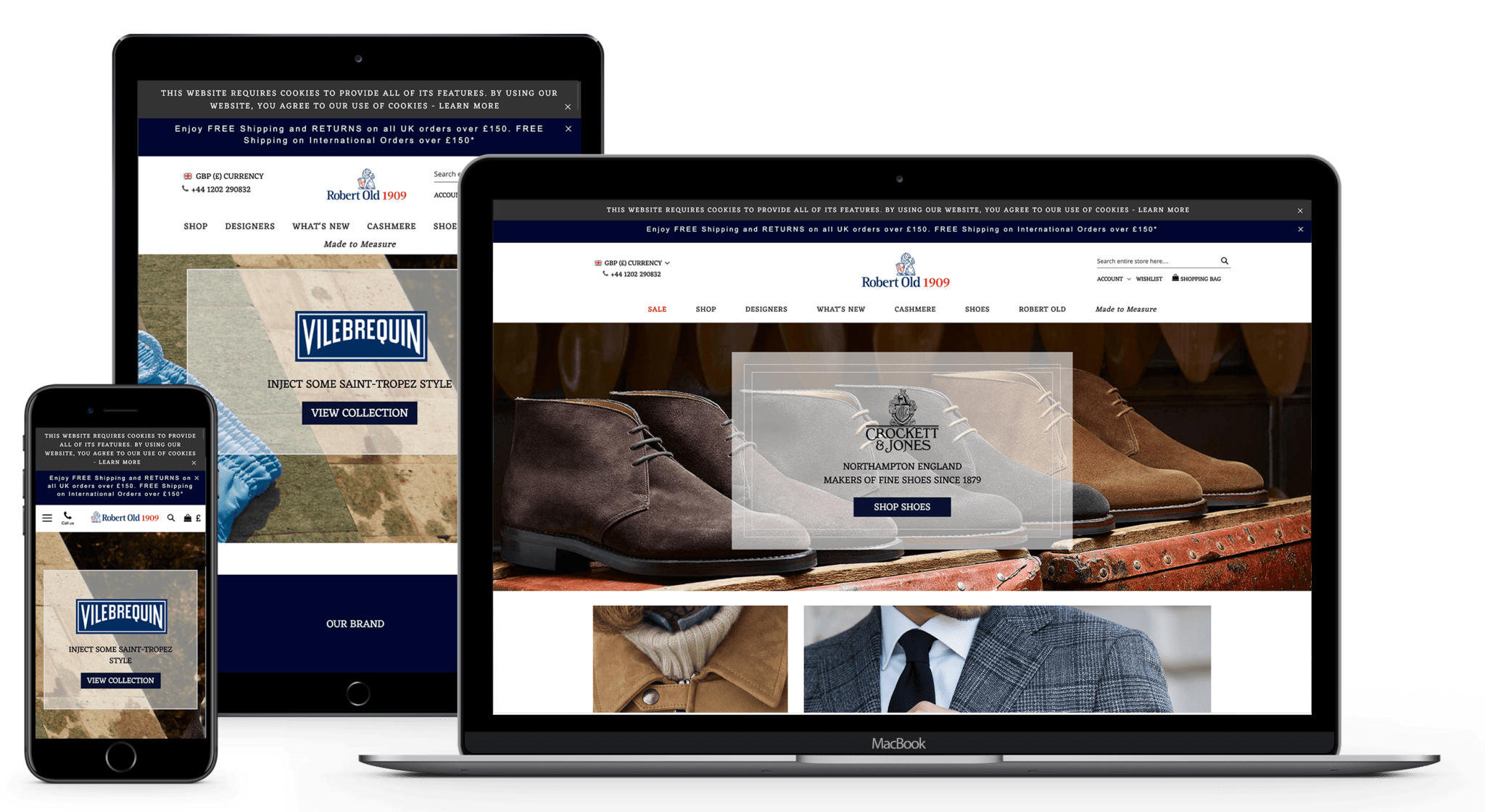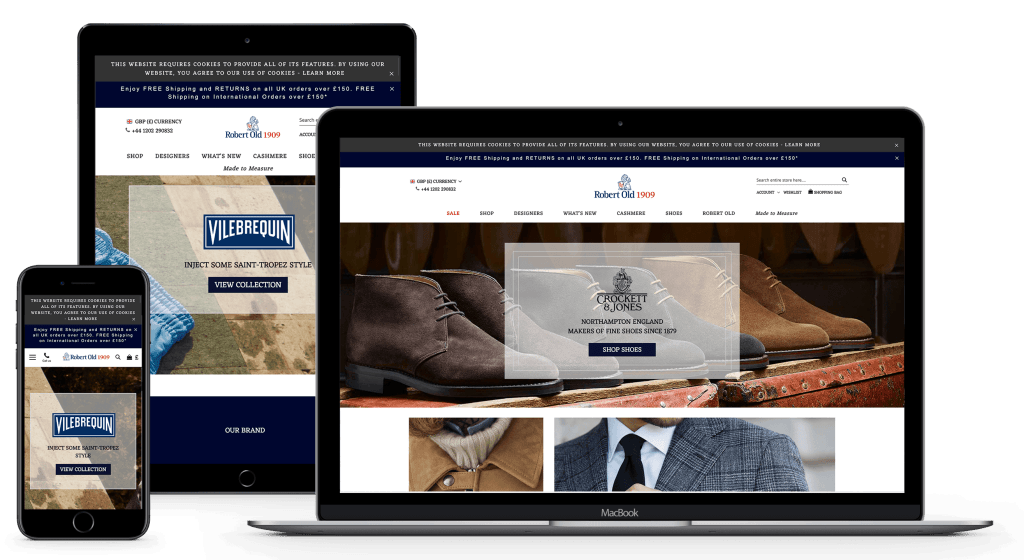 Magento eCommerce Website
Fully responsive for desktop, tablet & mobile
Full integration with TRIMS (TouchRetail)
Built-in returns module allowing easy product returns
Shipping Modules
Integration with Sagepay
Custom Festival Builds
Integrated Blog and Tailoring Pages
Robert Old required a Magento eCommerce website that could fully integrate with the TRIMS (TouchRetail) stock system. Envisage Digital developed a bespoke API unique to Robert Old's integration with TRIMS. This reduced administration as once a product is sold within the store, the item's stock level is then reduced centrally and is therefore not available online.

Envisage Digital created a website that focused on the luxury brands that Robert Old retails and provides intricate detail on the products. Envisage Digital understood that customers would need to see a very detailed image and product description when online as items are often part of a very considered purchase.
Robert Old required a fully responsive, online designer boutique that showcased the luxurious, stylish attire that they are well-known for offering. The website needed to fully integrate with their stock management system, centrally held with TouchRetail. It also needed to provide Robert Old with a Google Shopping feed and email marketing functionality.  The stock that Robert Old retails is also seasonally allocated, therefore the website had to recognise the chronological order of stock and seasonal variations. 
Envisage Digital provided Robert Old with a Magento eCommerce store that manages orders, products, stock, pricing and customers. Promotions are created with ease through the Envisage Digital banner module and seamless integration with the TouchRetail stock management system, ensuring that once an item is sold, the stock quantity is reduced online and instore.
 Sagepay integration to ensure maximum security for customers when purchasing products
Shipping matrix module to provide customers with the freedom to select how they would like their parcels to be delivered
TouchRetail stock integration
Mageworx SEO module to improve search engine ranking
Integrated WordPress blogs
THE RESULT IS
 a Magento 2 eCommerce website, fully responsive for customers shopping on mobile, desktop and tablet. A website that is integrated with TRIMS (TouchRetail) stock management and a reduction in administration as stock, pricing and orders are all automated between integrations.  This provides Robert Old with a powerful eCommerce & promotion engine as well as a robust content marketing solution.