Experienced Web Development
Services
Our veteran web development team can build your website with all the functionality and agility you need to achieve your goals and exceed visitor expectations.
Our proficient team have years of experience in developing in multiple web languages, giving you flexible, secure websites and online applications. Our goal-oriented development process and applications are made specifically to ensure your visitors have the most seamless user experience, while helping you do business. (That's probably why we only had referral work for the first 4 years of our business).
Making The Right Platform Choices
Web development is the construction of a website or solution – you know that – but have you thought about what programming platform to use? There are so many code languages including HTML & CSS, PHP, ASP .Net, Javascript, jQuery and Flash, then there is the choice of platform; Magento, Joomla, WordPress and Drupal to name a few! It can get confusing, and it does make an impact on the results. That's why it's important to work with a web agency that has used all platforms and understands the impact and limitations they can have on the final solution.
Our Website
Development Services

SEO Friendly Web Development
The Envisage Digital team have created dozens of pioneering bespoke websites, eCommerce solutions, plugins and content management systems. We craft compliant digital website platforms with cross browser support providing responsive mobile and tablet web designs to reach all forms of business goal. The team also has incredible experience with payment solutions and integrated online solutions with in-store portals, extranets and intranets for many high street brands and global businesses.

Here at Envisage Digital we have experienced scoping consultants that can assess your requirements to ensure prototyping development and planning is minimal. Our team works with an agile development approach cycle, building you interactive services that are reviewed and signed off fast. We can help with functional prototyping to prove user interfaces and components, while our scalable performance prototyping ensures your site remains up even under high load spikes.

ECommerce Platform Solutions
Our eCommerce web development team is, without a doubt, industry leading, especially our Magento developers (Magento: Used by 200,000 merchants worldwide). Time and time again we have provided enterprise solutions that allow you to scale with growth and take total control of your online channel. We've used Magento since 2008, elevating major brands as well as small businesses with outdated systems – to fuel growth, reducing costs and severe commitments to overcharging web agencies.

Our platform developers use open source solutions like WordPress to create both custom and theme-based CMS platforms, delivering you enterprise level control over your business without enterprise costs. WordPress has 60 million users worldwide and can be used for almost any type of website. Our CMS digital development team can create you a custom WordPress theme design, build interactive plugins and convert your site to a search engine friendly, responsive mobile design.

Web Services & Integration
Envisage Digital can provide seamless and professional system integration that can make your business run effortlessly and economically. Our extensive integration development gets applications talking to each other. We have API experience in all sorts of areas such as; integrating fulfillment systems, telephone systems, logistics / warehousing, email software, market places and even payment gateway solutions like Sage Pay and PayPal. These web service integrations have been installed in a huge variety of online business and international distribution centres.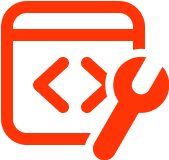 Secure Affordable Hosting
Envisage Digital can help you get hosting that best fits your infrastructure to draw optimal performance and speed from your online entity. We are a preferred partner of Rackspace, used by brands and government entities such as Vodafone and the UK Ministry of Defence. You have the option of using cost-effective cloud hosting services that work on a pay-as-you-use basis, managed hosting solutions for high performance, security and dedicated hardware as well as private cloud servers for scalable and secure data hosting.
Speak to our Web Development Specialists today
When it comes to creating something great, web design is the foundation and half the battle to having a truly successful online entity. Our team's versatile experience has enabled us to create gorgeous designs for some of the top brands in the UK. Take a look at our client list.
Sorted Surf Shop & Wetsuit Centre
Objective: Sorted Surf Shop contacted Envisage Digital wanting to migrate their current website data into the same website installation as their partner website (The Wetsuit Centre) to improve their stock management.
Strategy: We needed to integrate the new Sorted Surf website into a prior Magento installation, and carefully merge the data into one installation.
Results: The site was created from scratch, with a brand new theme in place. Once the new site was installed and made live, the results were that stock management for the company improved, and they could streamline their business between the two websites and two physical locations into one easy installation.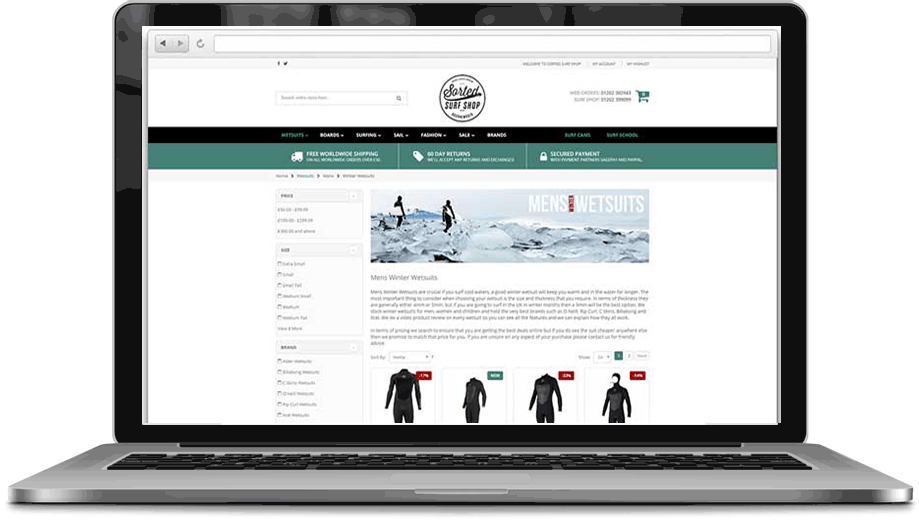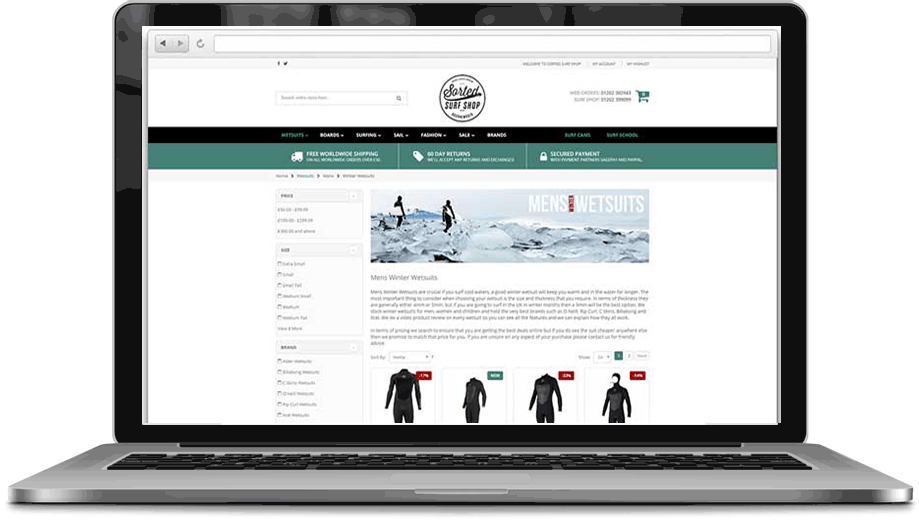 The Web Development Professionals
If you have any additional questions regarding a Web Development, give us a call at 01202 016162 to speak with a member of our team. 
Take the first step towards future success today by scheduling your consultation. Let us give you the tools to grow and succeed!